The
future

of heating control.

Con­trome rev­o­lu­tion­izes heat­ing tech­nol­o­gy! Con­trome Smart-Heat inte­grates all heat­ing tech­nol­o­gy in your house to one intel­li­gent sys­tem and saves up to 30% on ener­gy.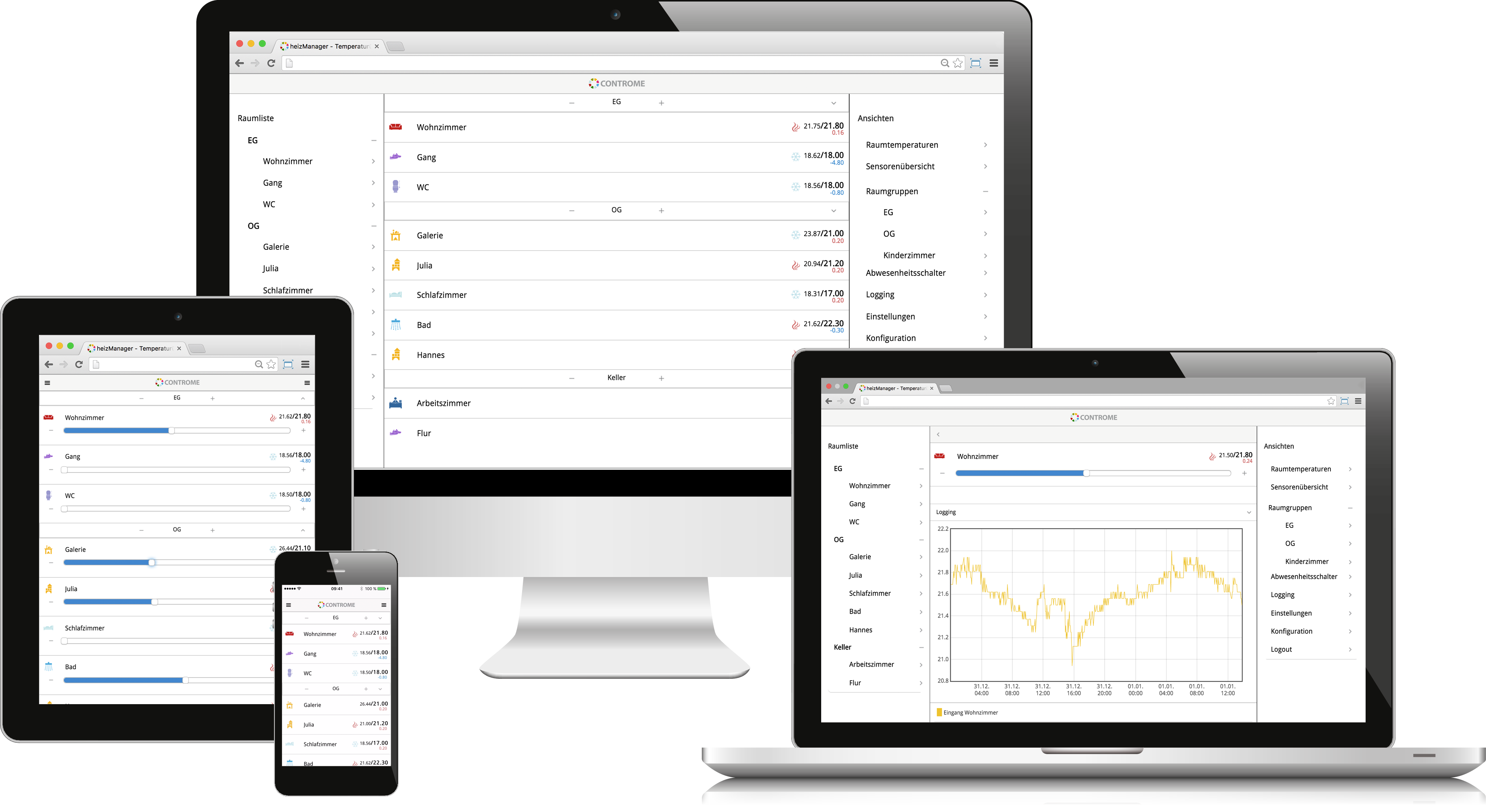 Underfloor heating, radiators, central heating or solar energy
Con­trome con­trols the entire heat­ing tech­nol­o­gy and com­bines every­thing to one intel­li­gent sys­tem!
Controme Smart Heat is the the next generations heating control!
It com­plete­ly changes the way of heat­ing. Many intel­li­gent mod­ules ensure con­sid­er­able ener­gy sav­ings and an impres­sive gain in liv­ing com­fort. If you look close­ly at Smart Heat, you will find inno­va­tions every­where.
You would like to know more?
Con­trome has count­less use­ful and func­tion­al fea­tures, that save ener­gy and increase the liv­ing com­fort. The Con­trome live webi­nar is per­fect for begin­ners to get to know the sys­tem!
Get to know the com­po­nent selec­tion.

Expe­ri­ence how easy the appli­ca­tion is.

Expe­ri­ence the most impor­tant func­tions and reg­u­la­tion meth­ods.
The future of Heating Control!
No mat­ter if you would like to upgrade or build new. We have opti­mal coor­di­nat­ed com­po­nents for every require­ment. Count­less inno­v­a­tive fea­tures save ern­er­gy and increase the liv­ing com­fort.
These are only a few features.

THERE

'S

MORE

!
Eas­i­est set up

Eas­i­est usage from every­where

Free updates and sup­port

3 months mon­ey back guar­an­teee

Free project sup­port

Huge selction of wire­less- and cable bound com­po­nents

Free pro­gram­ming pos­si­bil­i­ties for pro­fes­sion­als

Works with 99% of all heat­ing sys­tems
Tem­per­a­ture set­ting to exact­ly 0,1 degrees

Tem­per­a­ture mea­sure­ment in a res­o­lu­tion of 0,1 degree.

Room ther­mo­stat in this room

Self- suf­fi­cient sys­tem. Your data stays your data!

Works with any build­ing size

Con­trol sev­er­al rooms at once by cre­at­ing room groups

Easy time switch­es for every room

It doesn't mat­ter how many sen­sors are used or which room size.
Here's what our customers say!
I was look­ing for a suit­abel heat­ing con­trol. I also decid­ed to take a wire­less sys­tem also con­trol­lable per smartephone. Luck­i­ly i found Con­trome in time.…
While we were expand­ing our heat­ing sys­tem, i found Con­trome at the right time. Now we can reg­u­late indi­vid­ual rooms per­fect­ly. F.e. the guest room or all bath­rooms…
Since i trav­el a lot due to my job, it was very impor­tant to me, that i can con­trol and mon­i­tor my heat­ing sys­tem from any­where. Fur­ther­more all rooms should be con­trolled from a cen­tral point…
For a new­ly built appart­ment, i was look­ing for an upgrad­able sys­tem that i could con­trol over the inter­net /smartphone. I found the heat­man­ag­er from con­trome- i'm still very hap­py with my deci­sion…