The next big Update! Controme
Smart-Heat 4.
The new Smart-Heat 4 is a fur­ther large step for­ward. It is designed, to be easy and intu­itive and takes advan­tage of Tablet and com­put­er screens ful­ly. It looks fan­tas­tic and works the same way. Every­thing is acces­si­ble evene faster. And with the new Week­ly cal­en­dar any room can be planned per­fect­ly.

Smart-Heat 4 is is our gift. We hope you like it!
We're per­ma­nent­ly work­ing on updates, that make Con­trome even bet­ter! We improved many new func­tions. And it's free for all excist­ing cus­tomers!
You can try Smart Heat 4 in a demo account! After fill­ing out the form, we will send you the login data imme­di­ate­ly.
Easy to handle. Easy to love. The new threepart unser interface.
With Smart-Heat 4 we intro­duce a new User inter­face con­cept, that make all func­tions faster and avail­able even eas­i­er.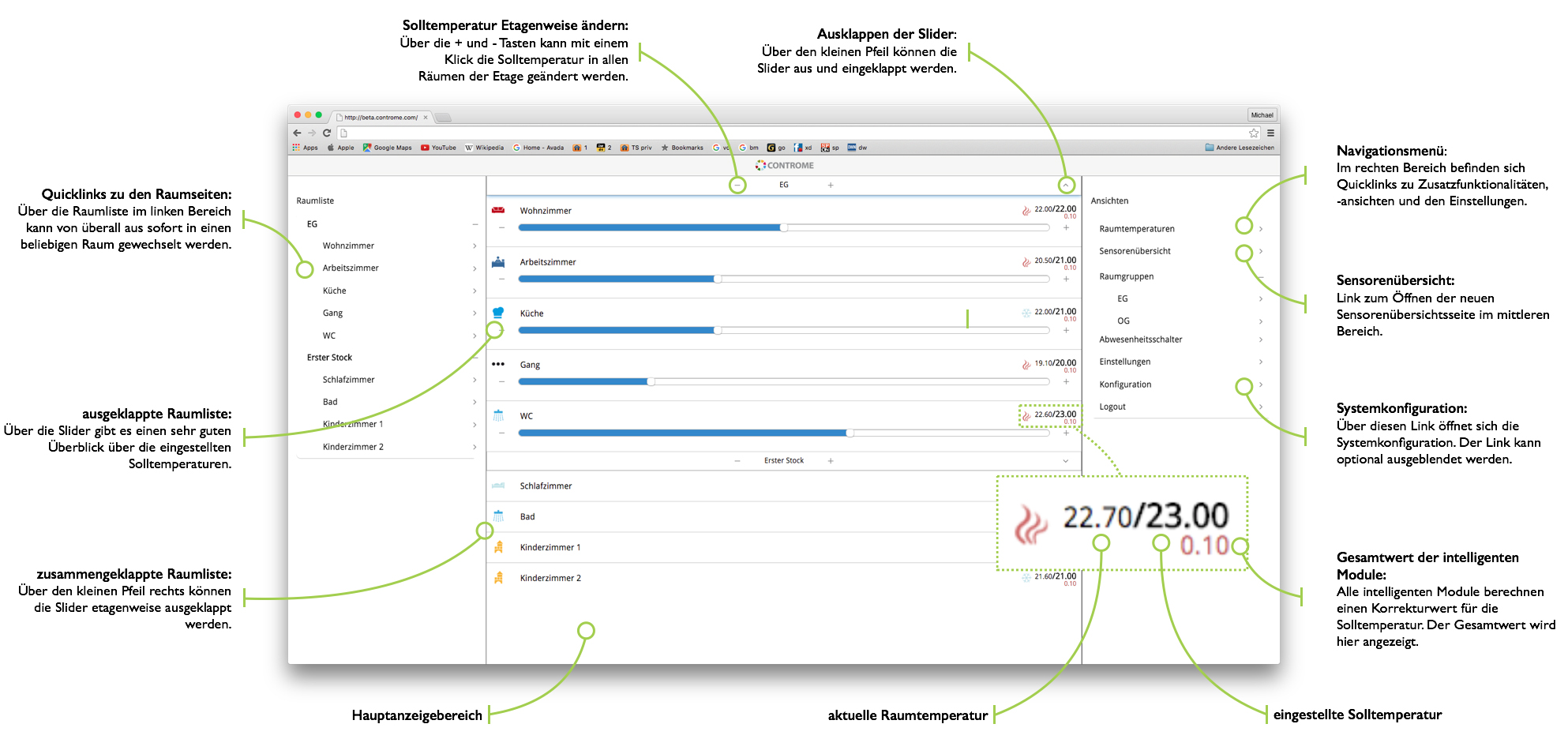 The new Controme experience with your Smartphone.
Get all advan­tages from the new con­cept with your Smart­phone now. Every­thing you would like to do is eas­i­ly acces­si­ble with a fold­ing menu. At the same time, we kept every­thing, that makes Con­trome Con­trome. You will notice the imr­pove­ments in the new con­cept and you will love them.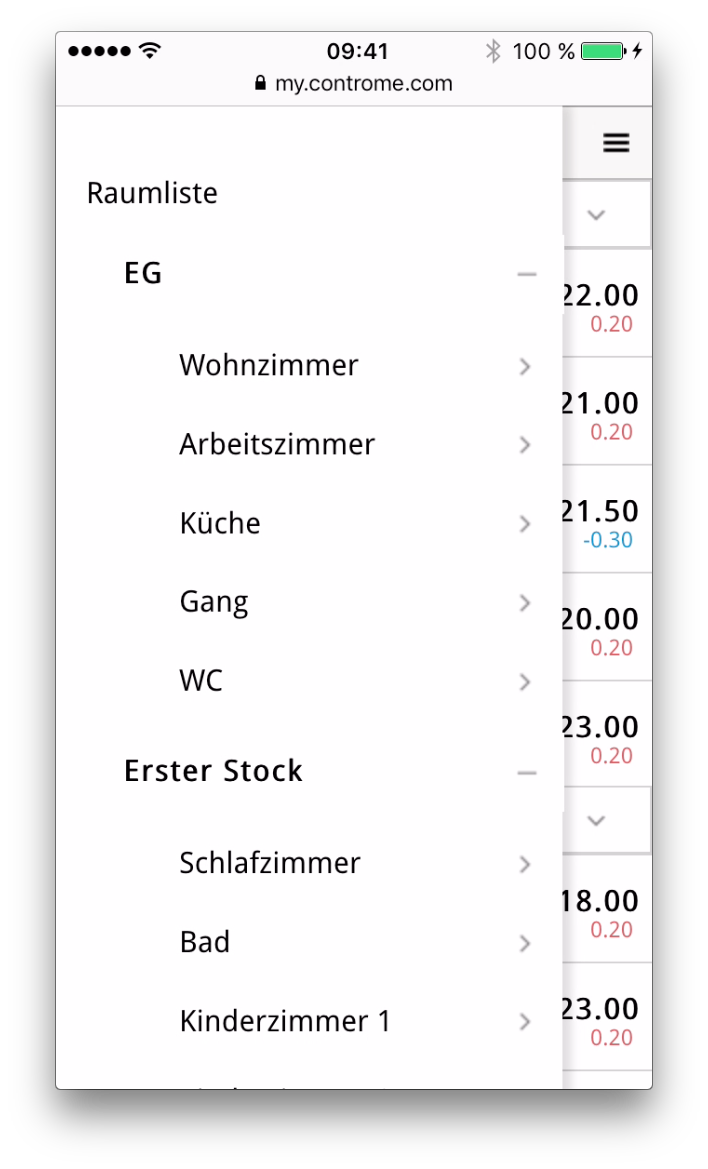 Schnellzugriff auf Räume
With the left menu-but­ton, you can unfold the room list from every­where.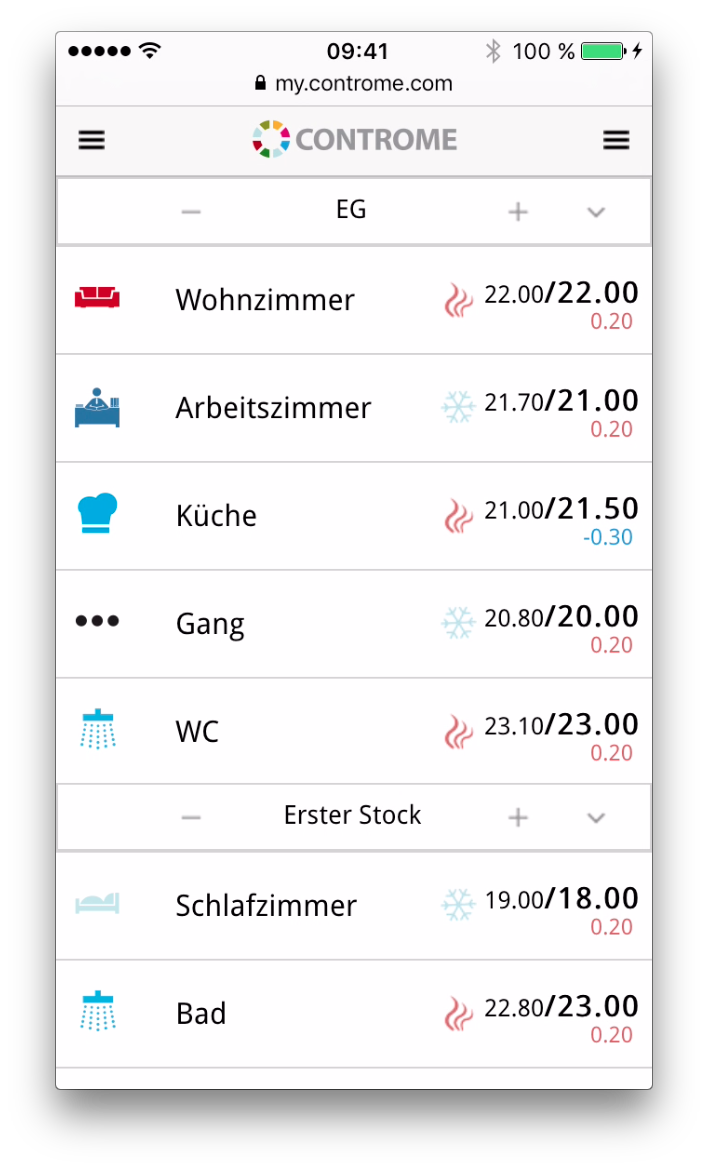 Raumliste
In the room list, you can ime­me­di­ate­ly see which rooms are being heat­ed, the set tem­per­a­ture, the desired tem­per­a­ture and the intel­li­gent off­sets!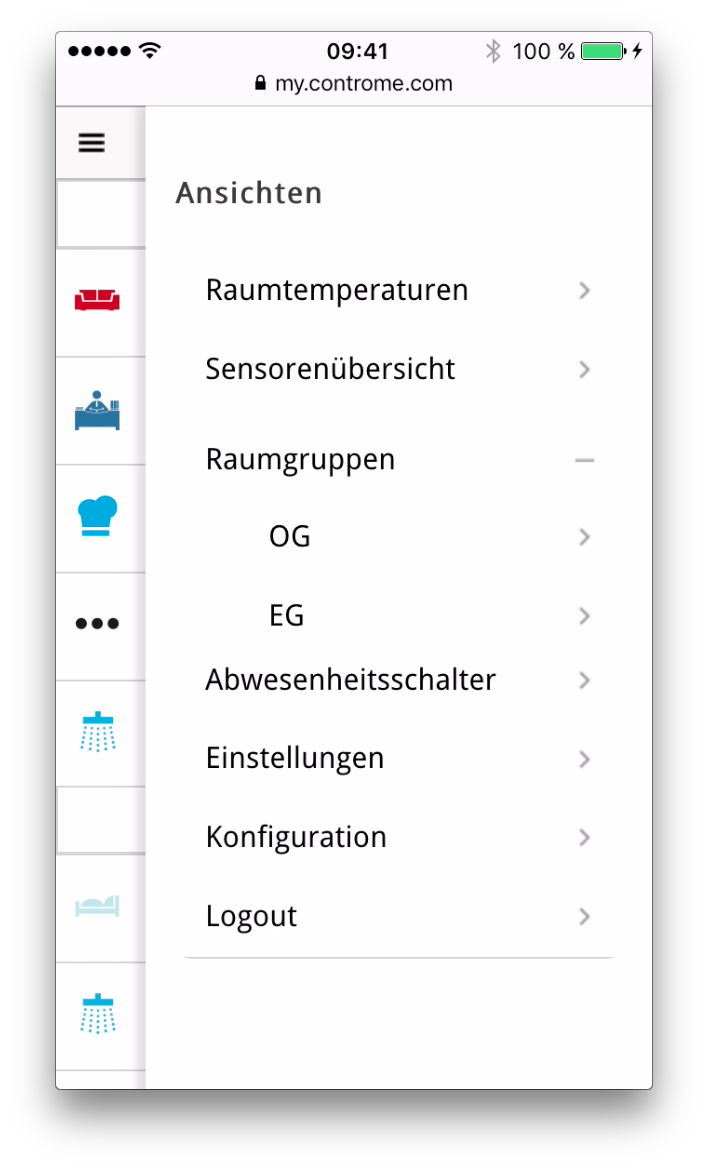 Schnellzugriff Navigation
With the right menu-but­ton you reach the nav­i­ga­tion menu. Here you have all set­tings and addi­tion­al func­tions.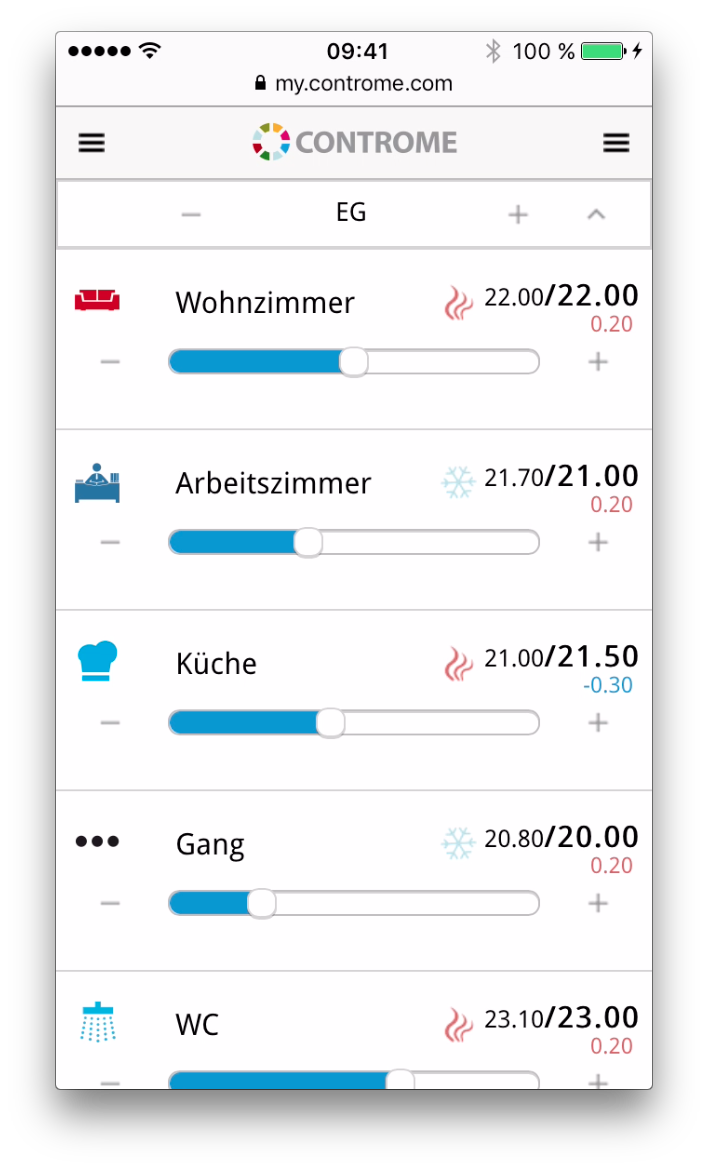 Multislider
A slid­er for every room. And every­thing on one page. Eas­i­ly fades in and out for every floor.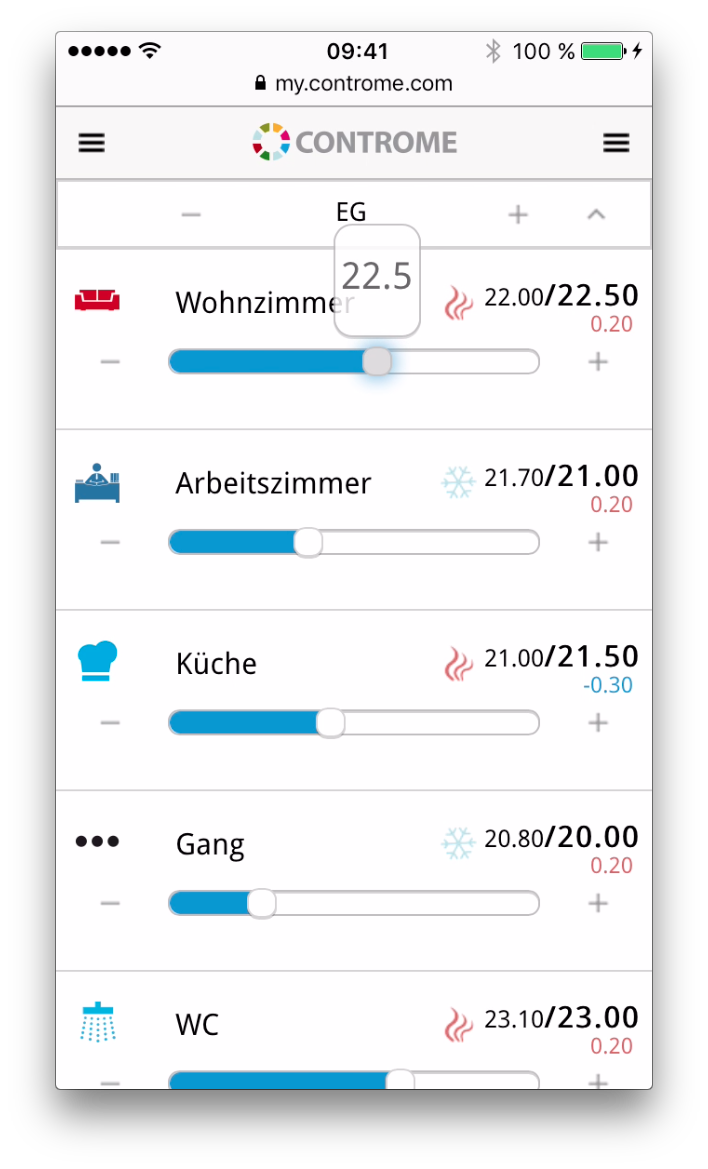 Slider Tooltip
The slid­ers in smart-heat 4 are easy­ly oper­a­ble with the Tooltip.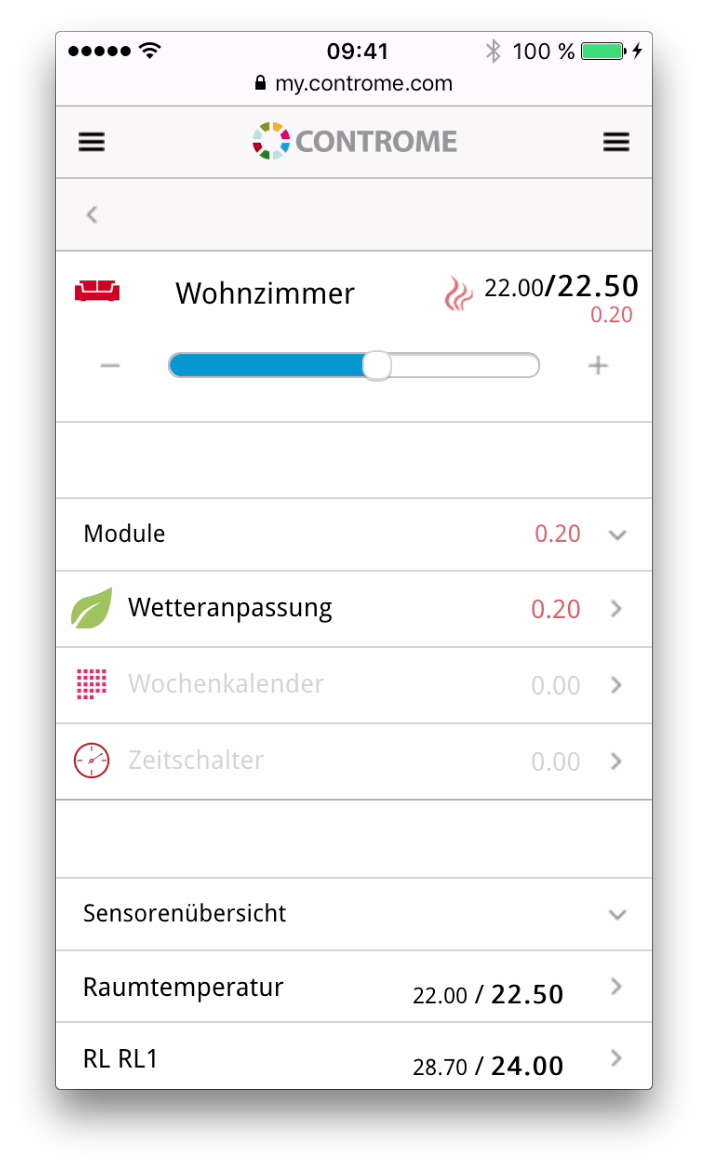 Raumseite
The room site has been revised. Next to some details, we added a sen­sor sum­ma­ry.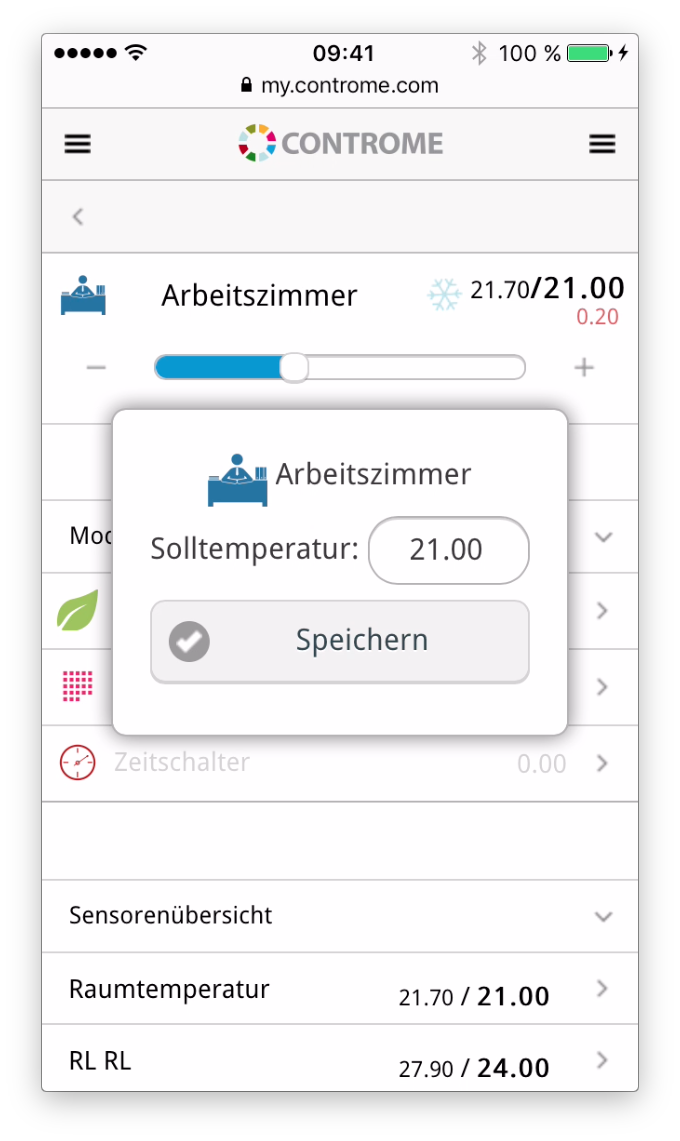 Manuelle Eingabe
Man­u­al enter­ing of tem­per­a­ture out­side of the slid­er area.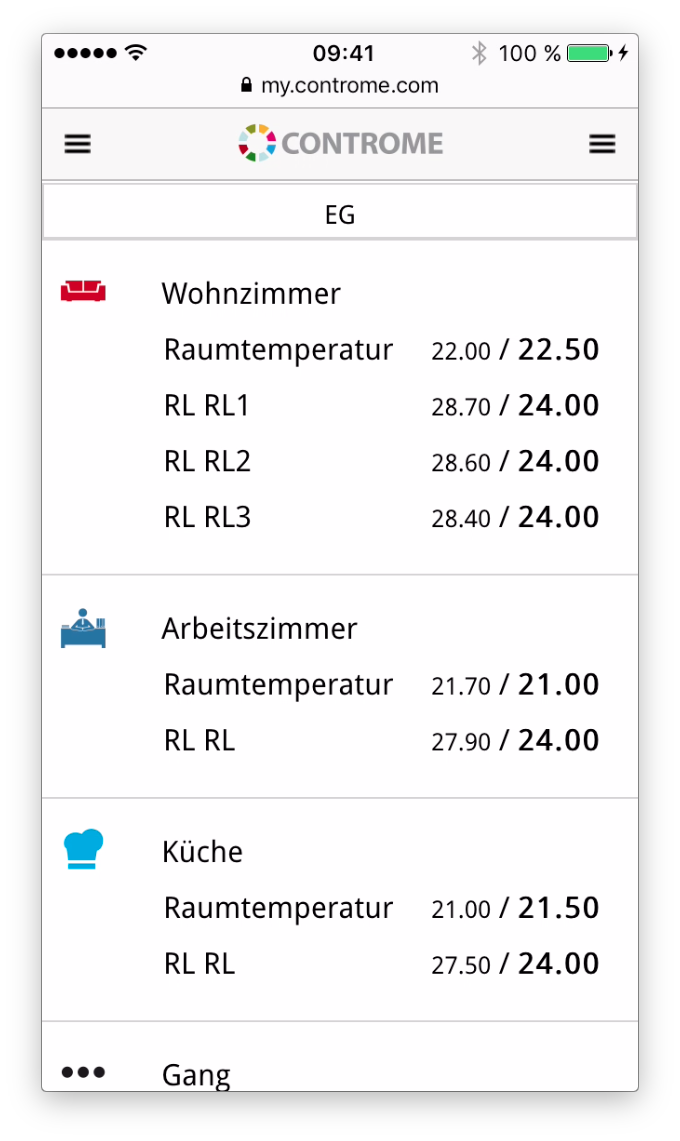 Sensorübersicht
All impor­tant tem­per­a­tures for a room on one page!
The new weekly calendar!
Timer switch clocks or pro­gram­ma­ble ther­mostats are in the past! Wit the new week­ly cal­en­dar you can plan for every room even bet­ter.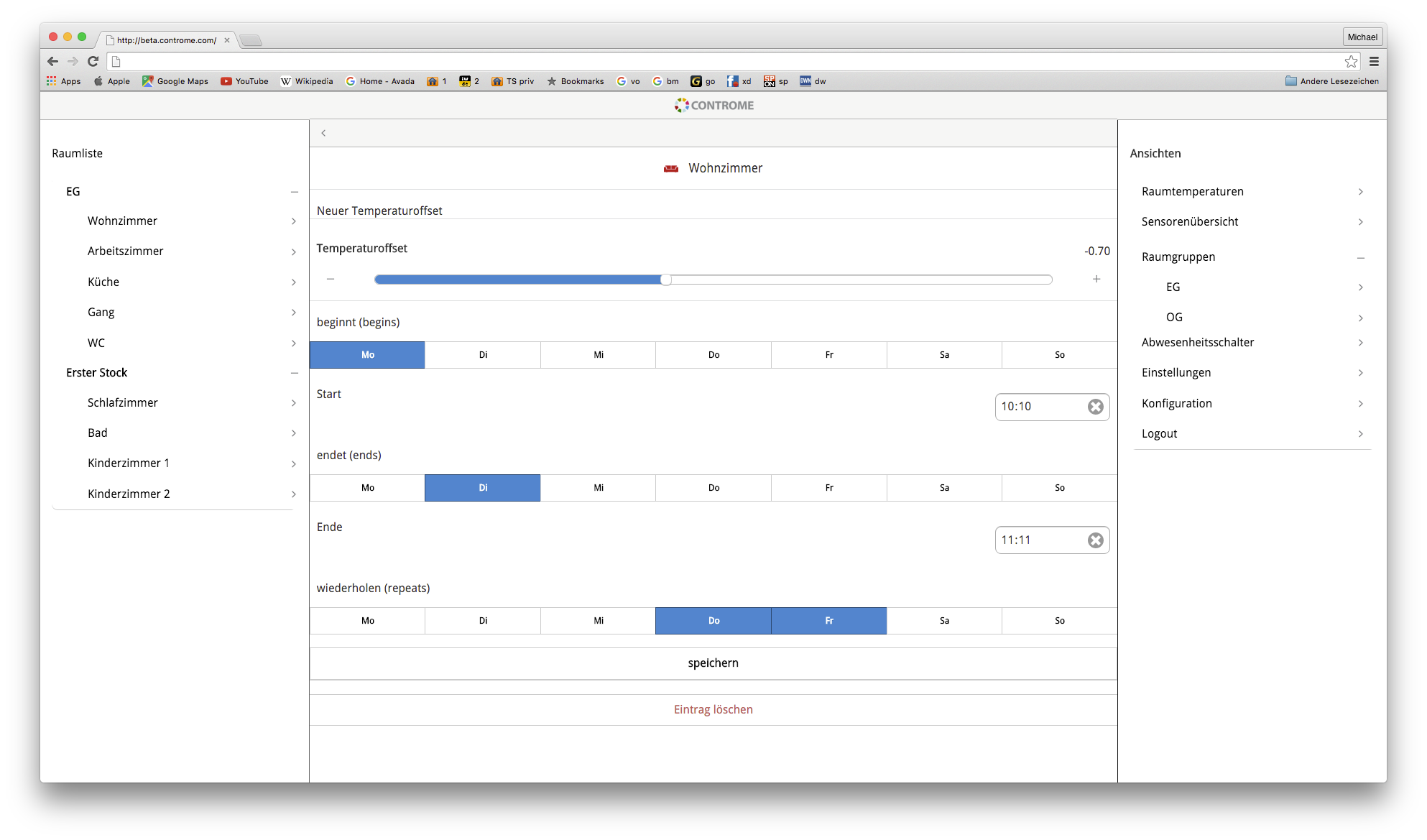 Decrease or increase your desired tem­per­a­ture eas­i­ly, select time and day for a pos­si­ble rep­e­ti­tion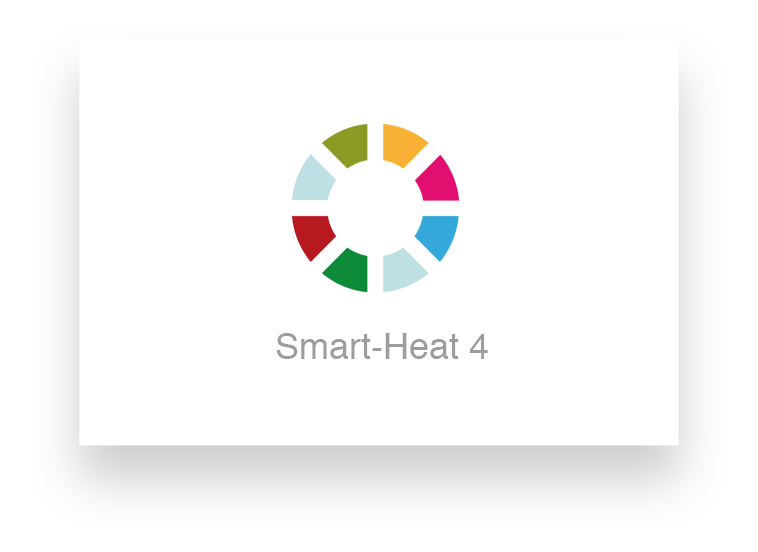 New sensor summary site
With the link in the right menu you can access the new sen­sor sum­ma­ry. All return flow tem­per­a­ture sen­sors and room tem­per­a­ture sen­sors are list­ed here for the per­fect overview.
Optimized and revised code
Our team invest­ed a lot of ener­gy and time in the code's opti­miza­tion. This results in a sim­pler and faster ver­sion of Con­trome smart-heat than ever. This process will be con­tin­ued, so the user expe­ri­ence will con­stant­ly improve.
But that's not all!
Many fur­ther improve­ments make smart-heat 4 the most pow­er­ful Con­trome release!
ca. 25% faster user inter­face

faster data­base in the self suf­fi­cient mode

Room groups, absence switch­es, acces­si­ble right away

col­or­ful off­set also on the room site

wire­less room ther­mostats can make 0,1°C steps now

sim­pler and eas­i­er design
You can use as many wire­less sticks in one build­ing as you like.

In an instal­la­tion with mul­ti­ple servers, one can be defined as the mas­ter serv­er. The oth­ers func­tion as gate­ways.

Removal of lit­tle errors

Option­al fade out of the con­fig­u­ra­tion link

Save and load in the self suf­fi­cient mode over /dbdl and /dbul
Make your heating smart now! We'd love to help!