The next big Update! Controme
Smart-Heat 4.
The new Smart-Heat 4 is a further large step forward. It is designed, to be easy and intuitive and takes advantage of Tablet and computer screens fully. It looks fantastic and works the same way. Everything is accessible evene faster. And with the new Weekly calendar any room can be planned perfectly.

Smart-Heat 4 is is our gift. We hope you like it!
We're permanently working on updates, that make Controme even better! We improved many new functions. And it's free for all excisting customers!
You can try Smart Heat 4 in a demo account! After filling out the form, we will send you the login data immediately.
Easy to handle. Easy to love. The new threepart unser interface.
With Smart-Heat 4 we introduce a new User interface concept, that make all functions faster and available even easier.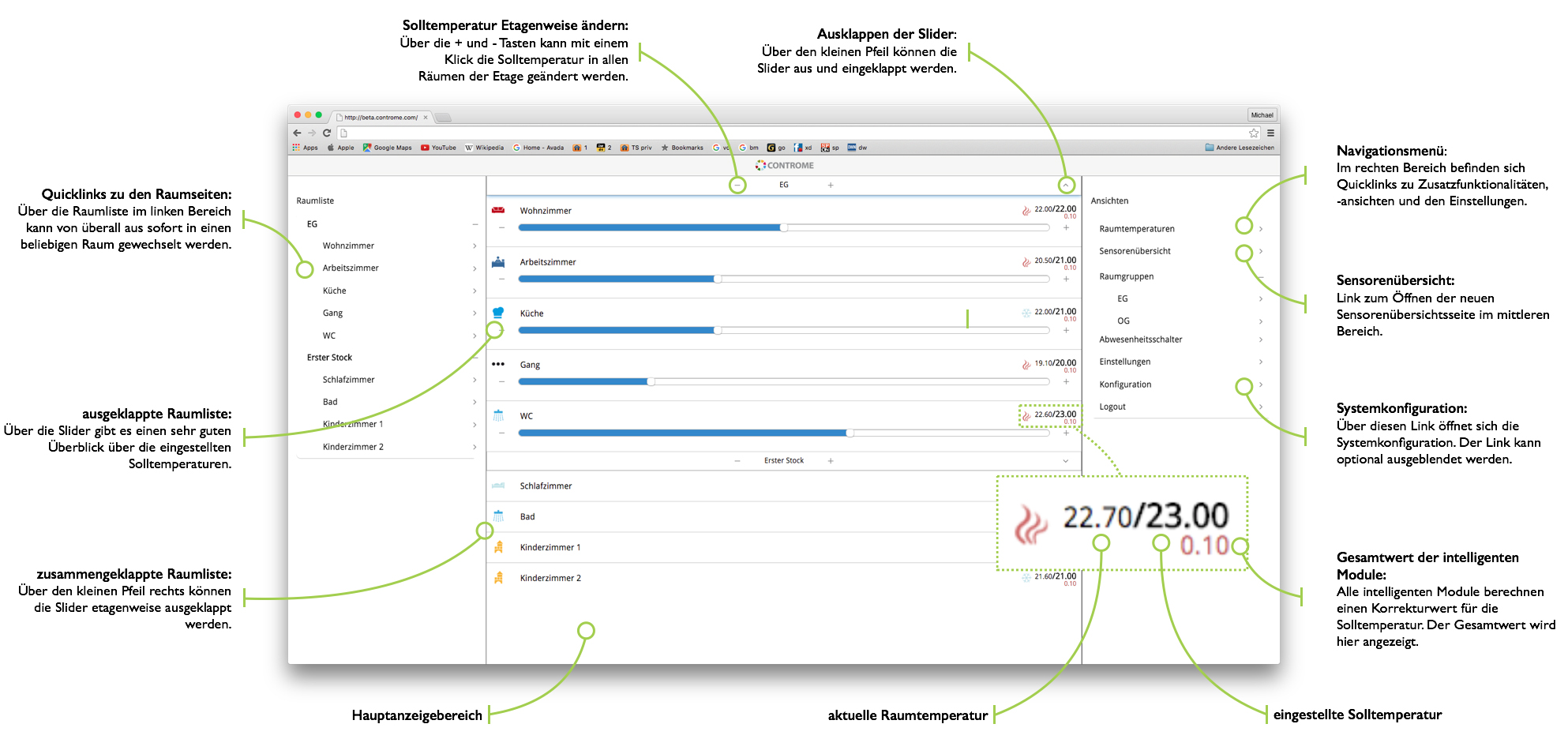 The new Controme experience with your Smartphone.
Get all advantages from the new concept with your Smartphone now. Everything you would like to do is easily accessible with a folding menu. At the same time, we kept everything, that makes Controme Controme. You will notice the imrpovements in the new concept and you will love them.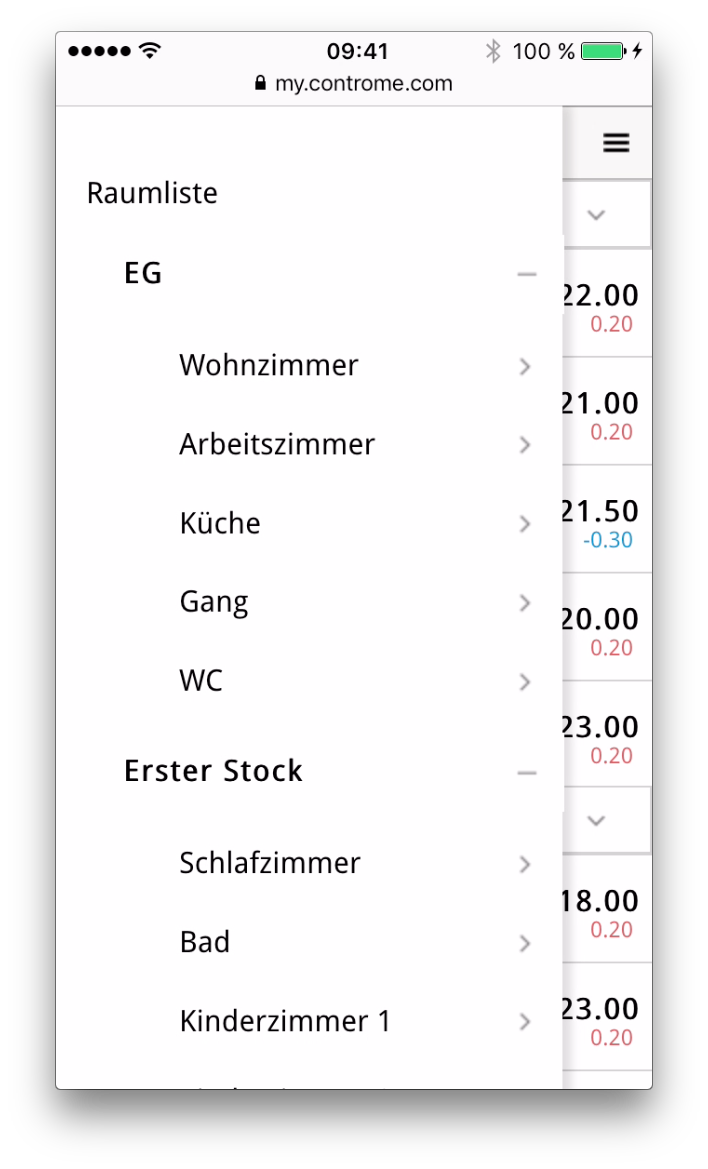 Schnellzugriff auf Räume
With the left menu-button, you can unfold the room list from everywhere.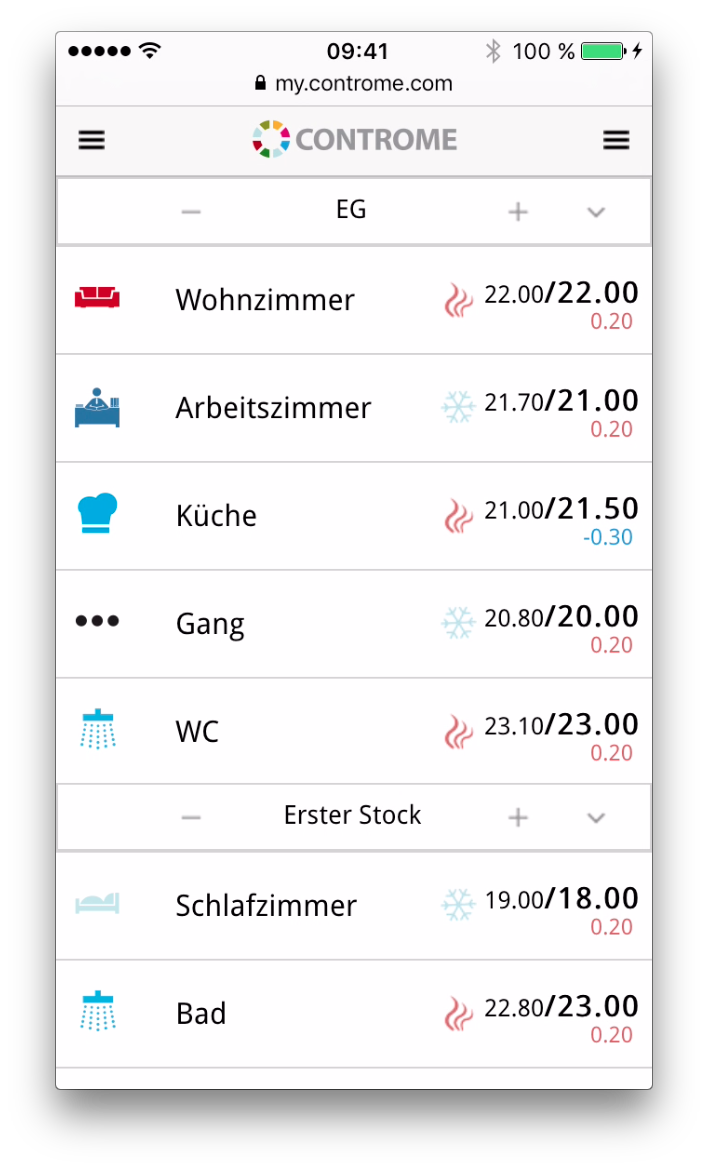 Raumliste
In the room list, you can imemediately see which rooms are being heated, the set temperature, the desired temperature and the intelligent offsets!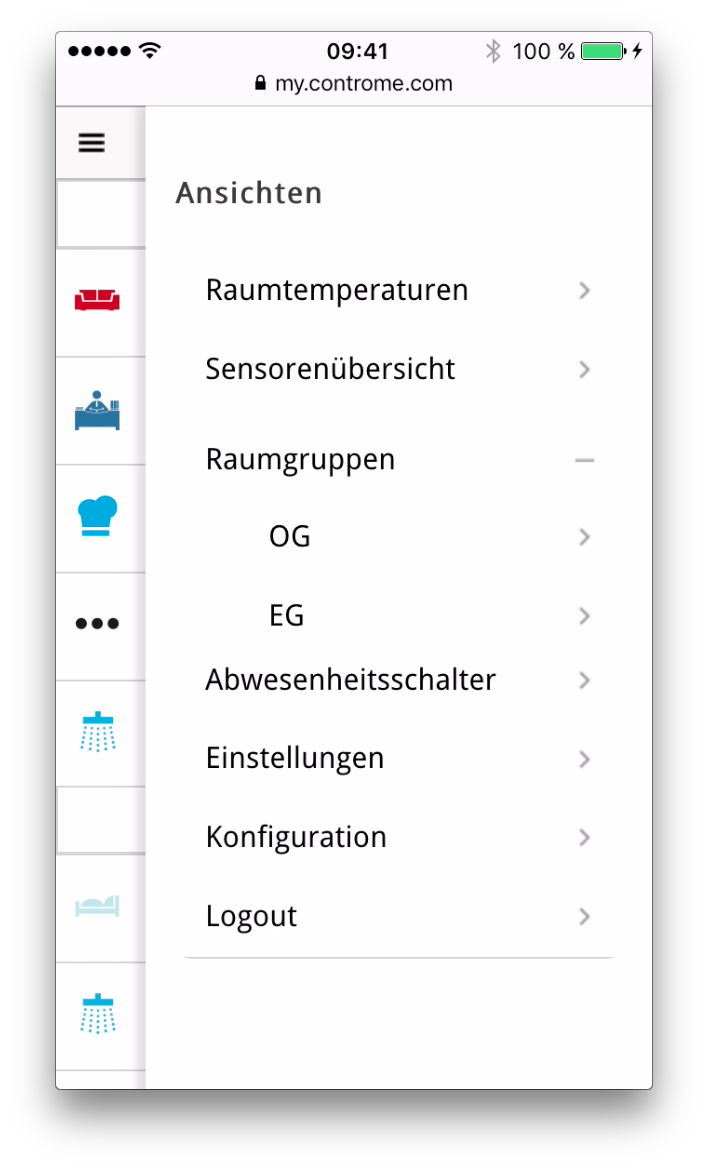 Schnellzugriff Navigation
With the right menu-button you reach the navigation menu. Here you have all settings and additional functions.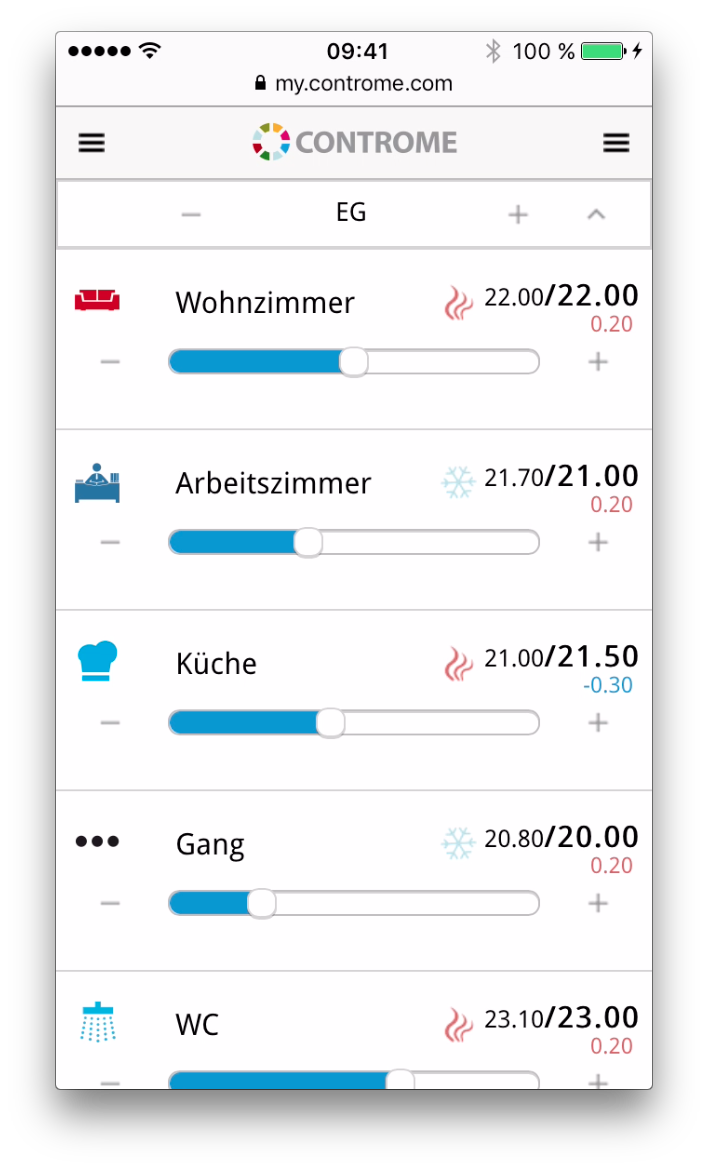 Multislider
A slider for every room. And everything on one page. Easily fades in and out for every floor.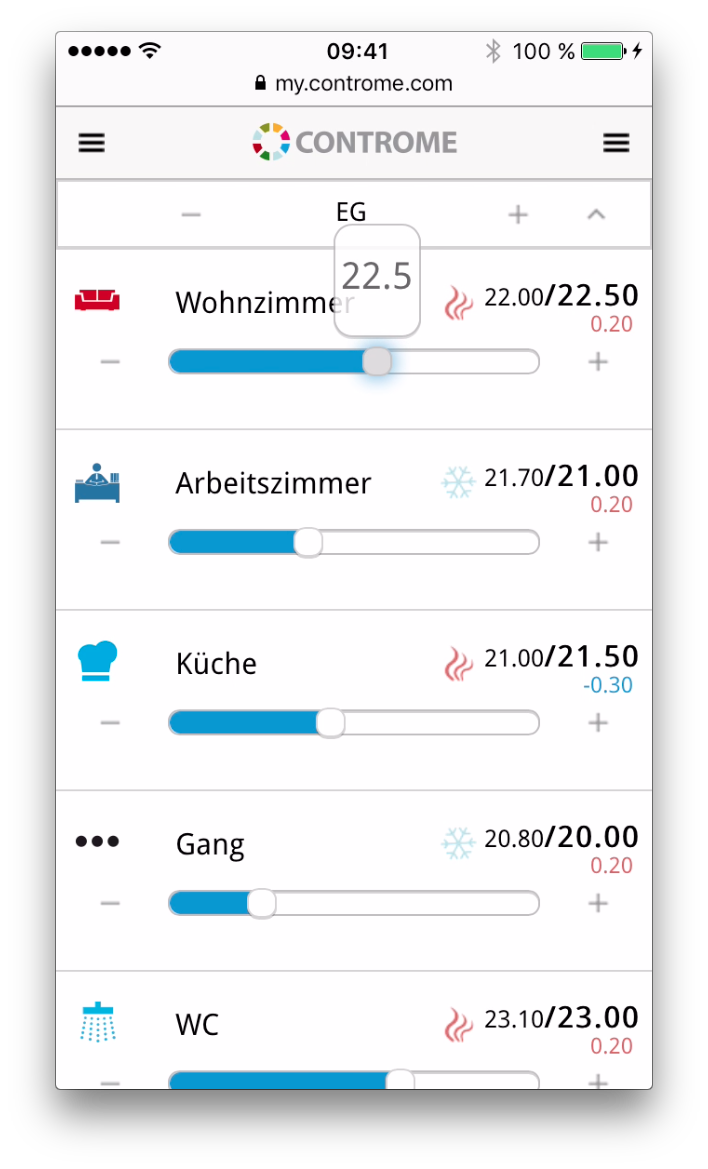 Slider Tooltip
The sliders in smart-heat 4 are easyly operable with the Tooltip.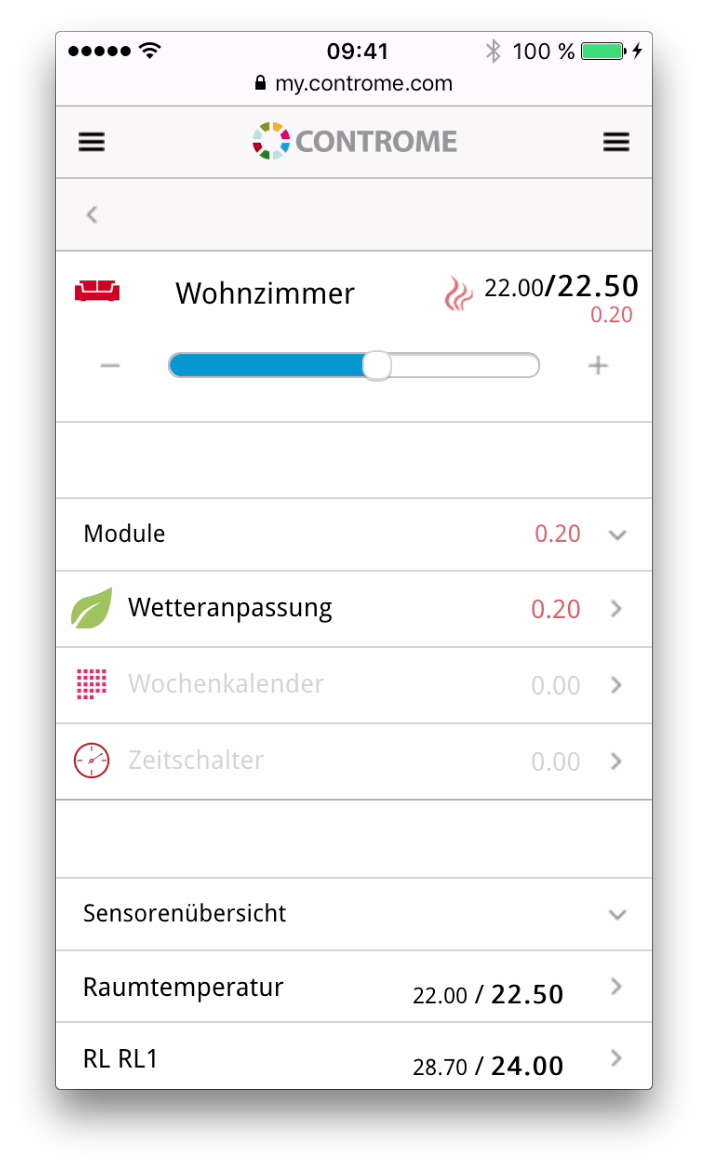 Raumseite
The room site has been revised. Next to some details, we added a sensor summary.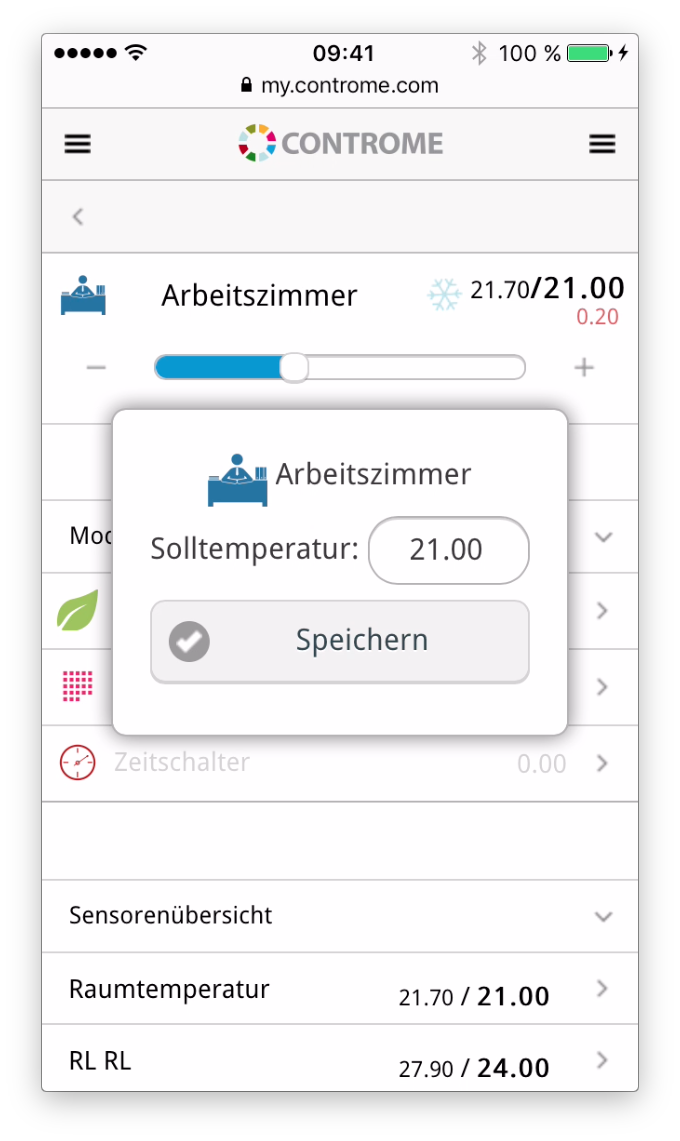 Manuelle Eingabe
Manual entering of temperature outside of the slider area.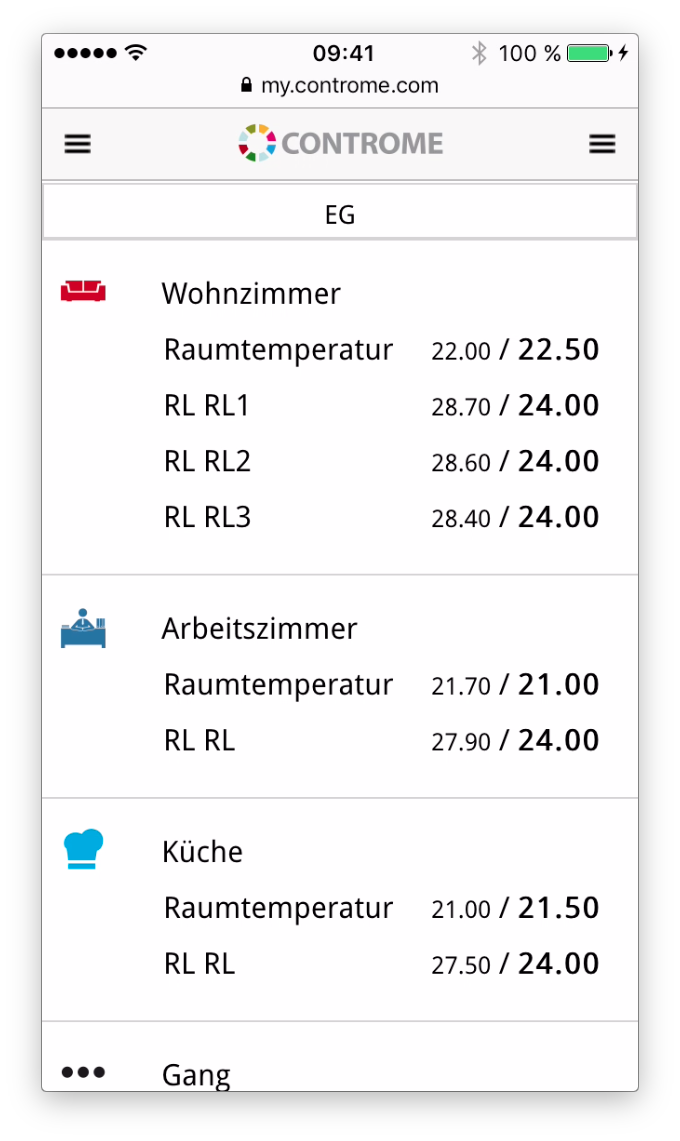 Sensorübersicht
All important temperatures for a room on one page!
The new weekly calendar!
Timer switch clocks or programmable thermostats are in the past! Wit the new weekly calendar you can plan for every room even better.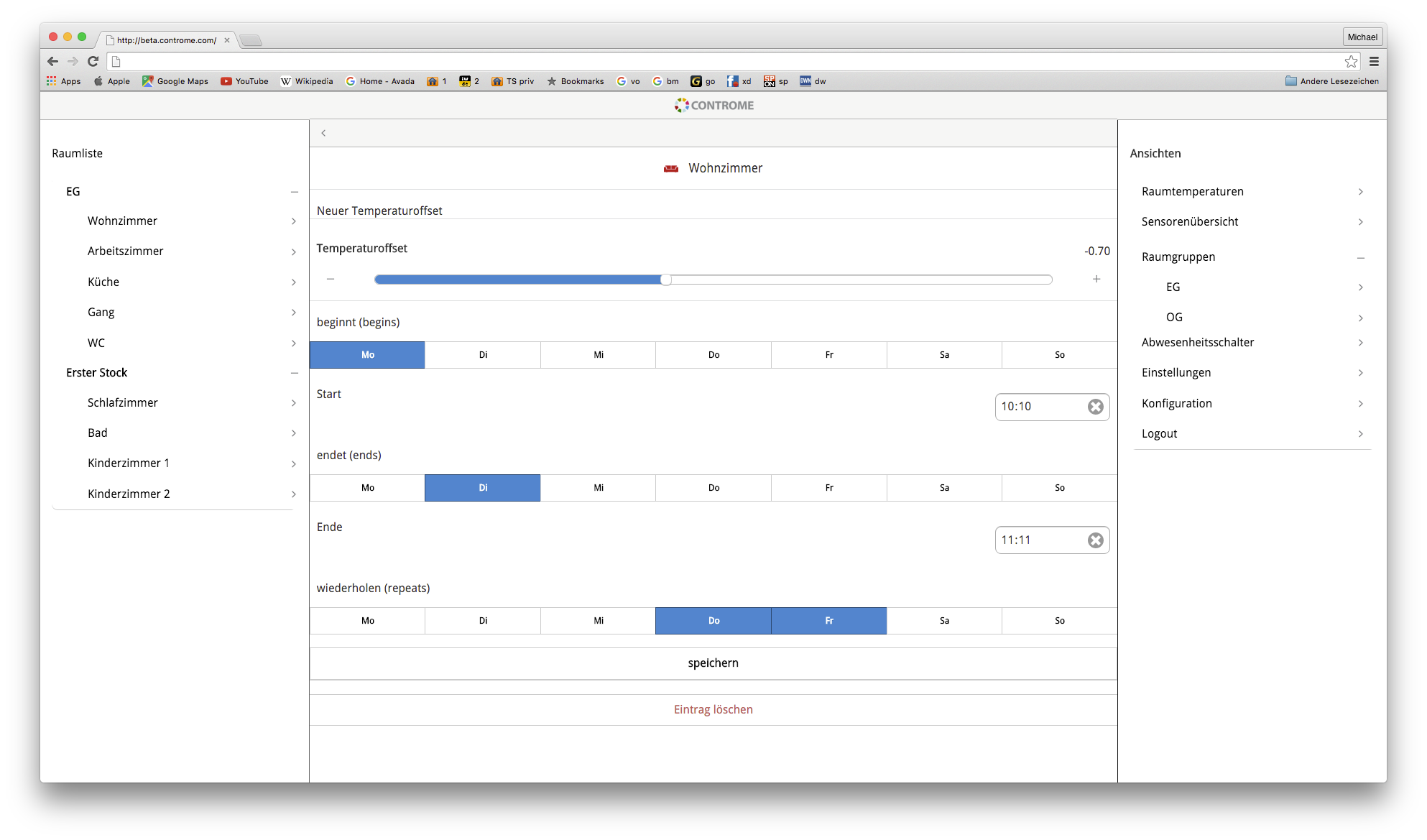 Decrease or increase your desired temperature easily, select time and day for a possible repetition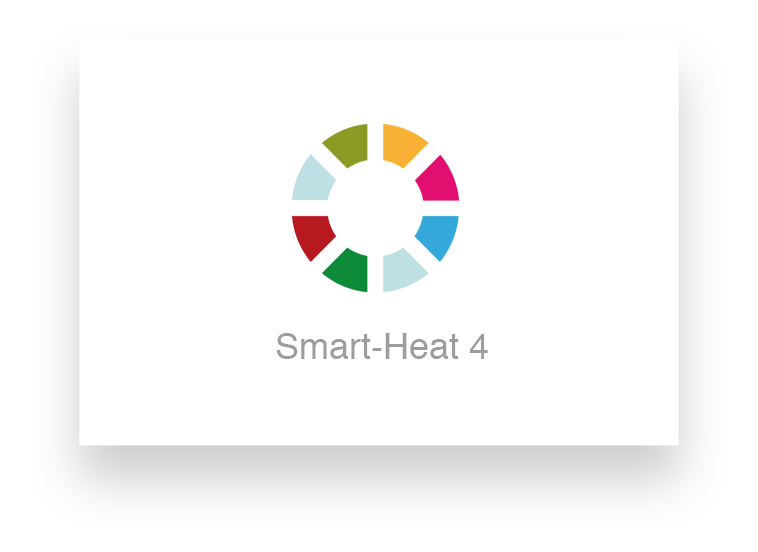 New sensor summary site
With the link in the right menu you can access the new sensor summary. All return flow temperature sensors and room temperature sensors are listed here for the perfect overview.
Optimized and revised code
Our team invested a lot of energy and time in the code's optimization. This results in a simpler and faster version of Controme smart-heat than ever. This process will be continued, so the user experience will constantly improve.
But that's not all!
Many further improvements make smart-heat 4 the most powerful Controme release!
ca. 25% faster user interface

faster database in the self sufficient mode

Room groups, absence switches, accessible right away

colorful offset also on the room site

wireless room thermostats can make 0,1°C steps now

simpler and easier design
You can use as many wireless sticks in one building as you like.

In an installation with multiple servers, one can be defined as  the master server. The others function as gateways.

Removal of little errors

Optional fade out of the configuration link

Save and load in the self sufficient mode over /dbdl and /dbul
Make your heating smart now! We'd love to help!